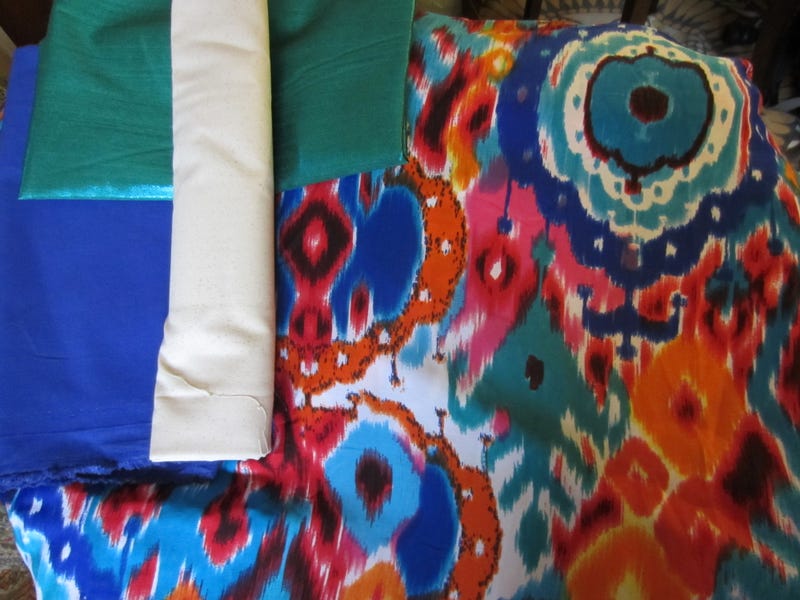 Joann's was having a sale on all their fabrics (50% off remnants!) and I needed to pick up some metallic silver thread for topstitching (it looks fucking amazing, btw), so why not, right?
The print is a floaty polyester. (Can we talk about fiber for a moment? When I started sewing I was all I'm-only-going-to-use-natural-fibers-blah-blah, but you know what? Synthetics take dye better, so my beloved bright colors are brighter, and have a better drape. I used to hate rayon because everything shrunk, but I have the power to prewash the fuck out of my fabric so I won't have to worry about that with my projects. As long as it doesn't feel like shitty polyester I'm about that life.) Anyway, there was just over a yard left on the bolt, so I got it all. The Very Cute Boy who works at Joann's (incidentally, Joann's is one of the last places I would expect very cute boys to work) marked the last eight inches as a remnant for me. He has flirty eyes. Wait, what was I talking about? Oh, I see a floaty summer blouse, what about you guys?
The other three were remnants: there's just under half a yard of the metallic teal (teal is my favorite color and it's shiny so somehow it ended up in my hand because I'm a magpie) that I thought would be good as a trim for an accessory, the blue is just under a yard of a bottom weight cotton poly blend, it's got a little bit of that icky polyester feel, but it's OK. The cream colored fabric is my favorite find, it's a yard of 100% cotton bottom weight WITH GOLD GLITTER. It's not in your face glitter, but it's there and it's fantastic. I've never done pants before so this seems like a good time to start, I'm going to make the blue and cream fabrics into shorts! I had a Hot Patterns pants pattern that I haven't used yet, so I cut that out last night.
Too bad I have to clean instead of sew today. I can't add another layer of sewing mess to this existing sewing mess. Le sigh. I have a bunch of projects planned in the old noggin.
What kinds of things do you buy for your stash? Do you have any projects planned out or in the works?